A wan light filters through layers of pastel-grey clouds as a mild southerly wind blows through the streets of Aberdeen. It's the last day of 2014 and a good time to review another excellent year of trips to the Scottish hills.
First of all, thank you to everyone who has visited my blog, read my reports or looked at my photos, and particularly to those who have shared on social media or left a comment.
The highlight of the year came in September when I married my wonderful wife Leslie with Loch Ness behind us. It was the most beautiful and perfect day and flicking through the photos now brings huge smiles to both our faces.
Preparation and execution of the wedding somewhat curtailed trips to the hills in 2014, but whilst I might not have had the usual quantity of trips, those trips I did do were certainly of the highest quality.
There were several standout moments, particularly those times at the beginning or end of the day when you have the hills to yourself. And, after years of seeing photos of it I finally stood on that lofty perch looking out over Fionn Loch and out to sea. It was an hour of quiet awe as I gazed out over lochs and hills from the summit of A' Mhaighdean in Fisherfield.
I also gave my first ever presentation featuring images and stories from my trips to the hills of Scotland. For their Valentine's evening, the science centre in Aberdeen put on a night of love-themed events. I spoke about my passion for the Scottish hills and how seeing them through the seasons and at all times of the day and night can bring a new appreciation for their beauty. You can view all the photos I used in the talk in this set on Flickr.
Another great moment was camping with Leslie amongst the bluebells in Cannich in late May. After running some wedding errands we had a great day out exploring some of the waterfalls in Glen Affric. We are already talking about getting out more with the tent in 2015.
Hillbagging and Stats
During the year I managed to bag 24 new Munros and cover almost 500km (1/5th of which was on the trip through Fisherfield!). A highlight of course was the summit of A' Mhaighdean with stunning views. I had 8 wild camps and enjoyed every condition from torrential rain and thunder through to frost and starry skies.
Here are the distance and ascent stats for the year: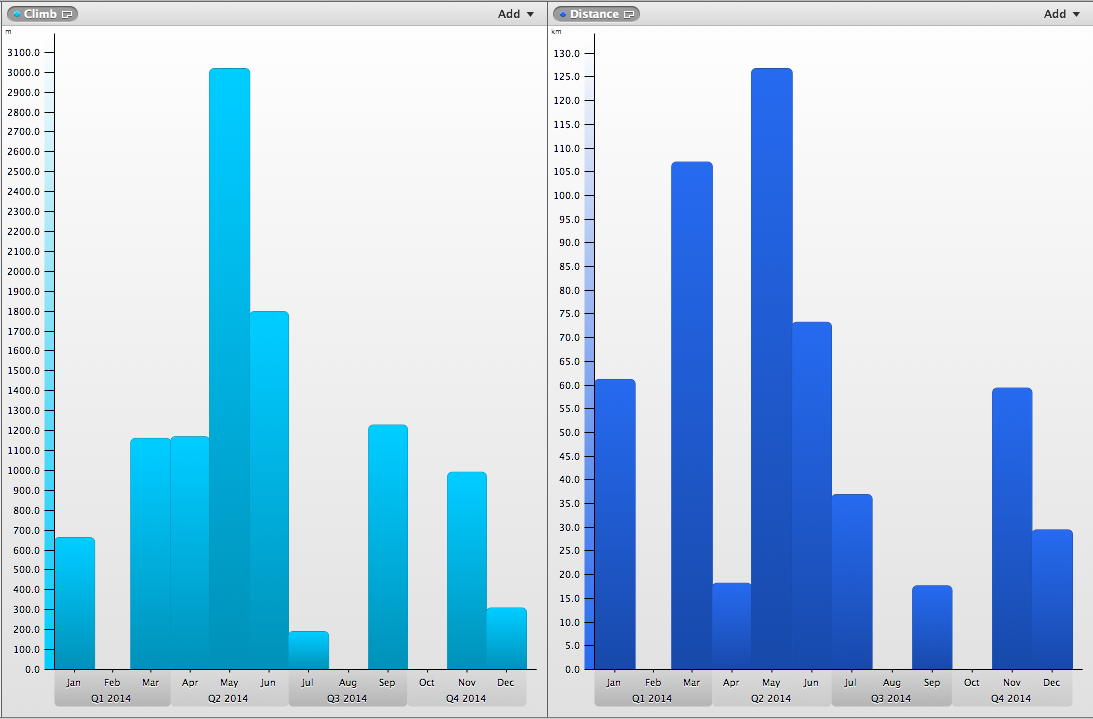 Trip Highlights
Winter
The winter of 2014 was famed for both its storminess and its relative mildness, both of which impacted on good winter walking. In fact this combination curtailed a lot of walking early in the year and prevented me getting out for a wild camp until March.
Between storms I did enjoy a splendid day doing a circuit of the hills above Glen Callater in the Mounth hills near Braemar where the sun shone on sparkling snow and the day ended with the most beautiful golden light.
February was a write off but in early March I managed to get out in another brief weather window, this time heading into the heart of the Cairngorms for a circuit around Glen Lui and Glen Dee. The Munro of Carn a' Mhaim lured me to its summit but I quickly retreated as another winter storm rushed in from the west.
The poor weather continued through the month and I ended up abandoning two high backpacking trips midway through as treachorous conditions made me seek the safety and shelter of the glen.
The first of these was with Rich to the hills around Glen Lochay in Highland Perthshire. After a wild night below Ben Challum we retreated for warmth and hot food at the Watermill in Aberfeldy.
The second was an attempt to do a circuit of Loch Mullardoch. Zero visibility, late snow and lingering cornices all hampered my efforts and I eventually dropped off the ridge and retreated down the north shore path after a thankfully pleasant and sheltered night out in the wilds.
Spring
The early days of April were still windy but at least we were starting to see sunshine and a hint of warmth returning to the hills. I found a new route to Morvern, an oft-climbed Aberdeenshire Corbett which offered good walking and fine views from its isolated summit. I had a go at putting together a short video of the trip.
By early May it felt like Spring had truly arrived and I headed across to Loch Laggan to do a round of the three Munros which occupy the land north of the remote Ben Alder group. It was a spectacular day with early cloud breaking to reveal blue skies and sunshine catching snow-lined hills. The trio offered an easy but very pleasurable round and it was good to be back with views from the highest hills.
With the weather much improved in May I was keen to get out for a good long backpacking trip. Whilst I wasn't repeating my coast-to-coast of the previous May I did enjoy five days backpacking into and through the famed Fisherfield wilderness, climbing some of the most remote Munros in the country and having a wonderful time. I spent five nights out in total and although conditions were dreadful on the first and last days, the intervening period was amazing with perfect sunsets and sunrises and the most amazing hills all to myself. The weather finally broke as I descended to Loch an Nid and I had my first experience of thunder in the hills.
A week after a rather gloomy midsummer's walk through Torridon and Flowerdale I found myself summit camping high above Loch Etive on the Munro Ben Starav. I had chased rainbows past Loch Dochard and walked down Glen Kinglass before finally climbing up towards Starav. After some showers during the day the late afternoon was glorious and I decided to camp close by the summit rather than continue any further. I enjoyed the sunset with a couple of fellow campers and the next day returned along the length of the Black Mount ridge enjoying great conditions and splendid views.
Summer
The summer was dedicated to wedding projects and so there were very few trips to the hills. We did enjoy a meander around Scolty Hill and scoped out photo opportunities in the beautiful surroundings of Foyers by Loch Ness. A wandering drive home after one of these trips took us for the first time to the Appin peninsula and the beautiful Castle Stalker.
As part of the wedding week we did manage an escape to the hills and I took the opportunity to introduce a few friends to the joys of the Munros. On a perfect September day with clearing mists and roaring stags we headed up from Kilfinnan farm in the Great Glen to visit both of the Lochy Lochy Munros. There was sunshine and extensive views and everybody really enjoyed the experience.
After the wedding there were more opportunities to enjoy being on this quieter side of Loch Ness with great paths and trails to explore straight out of the door.
Autumn
Into October and the autumn colours started to come through strongly with the first hints of more unsettled conditions. We took my new father-in-law out on a few occassions to Deeside, particularly enjoying a stroll along the shore of Loch Kinord in magical late afternoon light.
On a blustery day I finally climbed one of the nearest Grahams to Aberdeen - Pressendye - a long ridge of a hill that rises above Tarland in Aberdeenshire. After an initial protracted road walk, it offered a splendid round with fine views to the Mounth and Eastern Cairngorms. Morvern, climbed in the spring, was ever present just to the west.
My final backpacking trip of the year came in mid-November when a promising weekend forecast beckoned me across to the North West Highlands. In fantastic conditions I hurried around the four Munros of the Beinn Dearg group near Ullapool, finishing them just in time to pitch my tent and watch the sun disappear somewhere beyond Fisherfield. After a cold, frosty and starlit night there was a magical dawn as light crept over a scintillating world, slowly illuminating the hills of Coigach and Assynt, a bright moon hanging over the ramparts of An Teallach. I reached the lonely summit of Seana Braigh, my 182nd Munro, in time for lunch in the sunshine. A most peaceful and splendid place to end the year's big trips.
Snow arrived relatively late in the year, and with it the usual storminess. It wasn't until just after Christmas that calm settled and the mountains became a winter playground. I was down in Yorkshire spending the festive period with family but was still lucky to get out and enjoy a circuit around the hills near Kildale in the North York Moors National Park. The recent snow lent every vista a Christmas card quality and it was a pleasure to return along the Cleveland Way as the winter sun sank towards the misty Vale of Mowbray.
Targets
Looking back on the targets I set myself this time last year:
Reach 200 Munros (i.e. 82 to go!) Mountains (still!) on my radar are the Far North Munros, the Fisherfield Munros, the rest of Knoydart and another big traverse in the south-west.
Although I didn't quite reach 200, I did get to 100 to go and had trips both to Fisherfield and to Ben Starav in the south-west.
Not achieved this year
Yes, after many years with good intentions I finally got into the North York Moors over the Christmas period and had a wonderful day on moors around Kildale.
Targets for 2015
A total of 30 day walks and camping trips
Wild camp on an island
Climb 50 new Munros
Return to Torridon
Camp on Ben Hope
Other People's Trips
It was another excellent year for outdoor blogging with people sharing trips and adventures and new people starting their own blogs.
I particularly enjoyed Rich's Fisherfield adventure, Nicole's overnighter on Creag Meagaidh, Colin's account of the New Zealand Te Araroa Trail, James' backpack through Sarek, Rob's first backpacking trip to the Cairngorms and Stefan's epic backpack of the Tay watershed. It was also great to see Paul Byrne and Peter Dixon start blogging.
Previous Year Reviews
Read previous years articles:
Finally, don't forget you can read about all my 2014 trips by visiting the reports page, and view more of my favourite photos in this 2014 collection. Thanks again for reading my blog in 2014.